Person: Peggy Brennan  
Drink: Cup of french pressed coffee from MCBW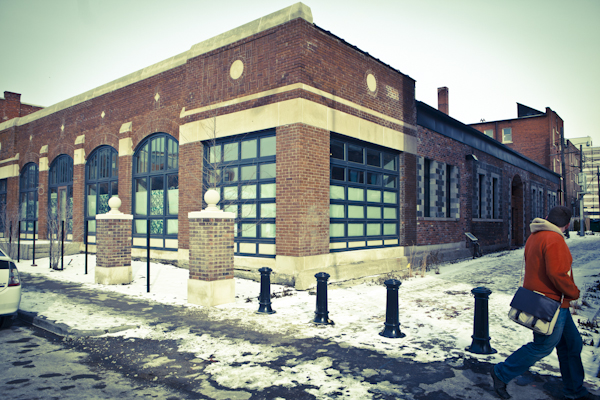 The day I visited the Green Garage in Detroit was sunny, and the hour-long drive was just what I needed to clear my head from a stressful few weeks of school. When I arrived at the address I found an old building clearly under construction, which I had to circle a few times to make sure I was in the right spot. (photo from www.modeldmedia.com)
I entered the building and tentatively stepped into the large front room and made my way around the corner where I found a few dozen people cluttered around two large tables positioned between various piles of building materials. The tables were covered with sack lunches and leftovers brought from home with baked goods meant for sharing sitting in the middle. I found Peggy Brennan and received a warm welcome before I was ushered to a spot at the table and introduced to the crew.

A friend had suggested I meet with Peggy for coffee, but the simple meeting turned into an afternoon adventure. Together, Peggy and her husband Tom run the Green Garage in Detroit, which is a venture that's not easily labeled. In 2008, Peggy and Tom bought the 90 year old building, which in it's glory days was a showroom for Model T-based automobiles before becoming one of Detroit's numerous boarded up buildings (click here for a great photo gallery). The vision for the purchase was to restore the building (which is listed in the national historic registry) to its original condition and turn it into a resource and co-working space for entrepreneurs to start sustainable businesses. 

It's an idea based on the triple bottom line business model where the focus is not just profits, but also the environment and the community. The project has been the result of the efforts of 200 individuals working together to make a difference in Detroit's Midtown neighborhood.

Because it's a group effort, each Friday the Garage hosts a community lunch where anyone interested in the project can come and learn about how the project is progressing. Peggy suggested I join, then we could have a tour of the building before finally sitting down to coffee. That's how I ended up having lunch with people ages four (kids of one of the main workers) to 74 (an older couple that had been longtime friends and supporters of Peggy and the project). It certainly felt like a community, and the laughter and lightheartedness of the lunch made me feel at home; there was an overwhelming sense of purpose and excitement about the renovation project that has required much problem solving and elbow grease.

When the meeting ended, Peggy took me for a tour of the building and I was blown away by everything I saw. It's a net zero renovation, which means the project is trying to be as efficient as possible. Just about everything I saw was recycled, reused, or repurposed in one way or another. The building is heated using rooftop solar thermal panels that heat two huge tanks of water that runs through pex tubing under the wood floors.  This provides heat at a fraction of the price of a traditional heating system. They've created a staircase out of the old piping system, and the doors to the rooms are beautiful antiques acquired from various places. The best part was going to the roof to see the skylights and gutters designed to catch the rain to water the garden that will line the roof's edge. I was blown away by the building's aesthetic and technological glory.

…

With the tour over, we headed across the street to Motor City Brewing Works, a restaurant filled with a vibrant young atmosphere that counteracted the doom-and-gloom picture the news paints for Detroit. We ordered a large french press of coffee to share as I learned more about Peggy. Not long after we started talking, Peggy's sister and nieces joined us and continue drifted to Detroit's history. They were realistic about the problems facing the city, but were adamant that the city was filled with opportunity for those willing to get their hands dirty—people willing to start projects like the Green Garage.

They were excited to be a part of it, but I was surprised to find out that their efforts happened almost by accident.

After their three kids were grown, Peggy started working on a masters degree in Library Science while Tom worked as a consultant for Accenture. After 20 years in the business, Tom needed a change of pace and decided to retire, but he needed an idea to occupy his free time.

Some friends sparked an interest in sustainability, testing out ways to save energy, reducing costs, and reducing their negative impact on the environment. The two found themselves beginning to try different things around the house and get together with their group of friends to swap stories, and were enjoying themselves in the process. Before long, the group was holding weekly meetings. They hadn't planed for something big to emerge from the group, but one day a seed of an idea was planted that grew over the course of seven years into the concept for the Green Garage.

Peggy and Tom started a real estate search that led them to the old historic building in Midtown, and they decided to buy it and make their idea into a reality. Now, 18 months later, they are getting ready to officially open the doors after completing the arduous, yet wonderful renovation project that will add a beneficial element to the city.

I loved the story because it paralleled my own life and really hit home. Two years ago, two entrepreneurially-minded friends and I started getting together for a beer every Friday to talk about ideas and collaborate on projects. We didn't expect anything big to come out of our meetings, but we started inviting others until our group of three turned into six, then twelve and eventually grew to dozens of people contributing to an exciting entrepreneurial movement on campus (doing things like this and this).

What our group and the Green Garage share is a sense of authenticity. People only join if they are passionate enough to get their hands dirty, which sparks an organic growth with an almost magical quality. People get excited to be a part of something greater than themselves.

It wasn't until I crowded around a table of volunteers happily spending their lunch break in an unfinished building amongst the company of like minded individuals that I realized belief in a vision creates meaning.

Whether we are conscious of it or not, we are all chasing meaning. We're all looking for proof that the ups and downs of life—the challenges, setbacks, heartbreak—are worth something. We want to know our lives mattered, that we made a difference.

Yet the magnitude of changing the world can be so daunting—to the point where there seems to be no sense in trying. The Green Garage and the efforts of all involved disprove that. Big change starts small. It takes one person with an idea and enough passion to attract others to join the cause. With time and continuous commitment, momentum builds and positive change happens.

The Green Garage is one of many growing initiatives in Detroit comprised of passionate individuals pushing positive ideas forward.  

But Cup 37 isn't just a story about Detroit.

It's a story about finding a community that fits your passion and aptitude and allows you to contribute to something greater.

It's a story about finding meaning; about making a difference.

It's a story for everyone.
.